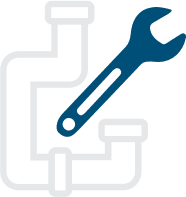 The sink is probably one of the most common plumbing fixture inside a household. The kitchen sink is where people wash their hands and dishes. It's where people fetch water. It basically has so many practical uses. But because of this, it is also more prone to break downs and blockages, than any other rooms.
As people continue to use their kitchen sink, many different plumbing issues tend to arise. Sometimes, you'll notice water leaking from your sink drain. You also notice that the kitchen walls and floor are damp. Other times, as you're fetching water for your coffeemaker, you may have noticed foul odour coming out of your sink drain. These are indications that you may to repair your sink & drain.
Sink & Drain Repair Specialists
Blocked Drain Plumbers are specialists in sink and drain repair. For over 15 years, we have been providing Melbourne and its surrounding suburbs with top of the line plumbing services. All of our technicians are highly trained and licensed in plumbing.
To maintain our high quality standards of plumbing services in Melbourne, we utilise high-tech plumbing tools and equipment. Our tools allow us to pinpoint the exact problems in your drain system. Thus, we are able to work faster and more accurately.
Some common problems we encounter in this area are:
Blocked sinks are normally due to fats, oil and grease. Instead of passing straight through the drain, FOG cools down and sticks to the pipes. They start to build up, and over time, they will completely block the passage of water and other materials through the pipes. Food scraps, toothpicks and soap scum can also cause sink blockages.
The most common reason for blocked toilet is toilet paper. There are some toilet papers that don't easily dissolve in water. However, there are several occasions when diapers, menstrual pads, sanitary napkins and tampons are the ones clogging the system.
Shower drain blockages normally occur due to the accumulation of human hair and soap residue. However, there are also many instances when they are caused by dirt build up and small plastics, which used to be part of soap or shampoo package.
Gutters problems usually occur due to debris that are clogging up the gutters. These include broken tree limbs, dust, leaves and even plastic bags.
Leaking pipes may also be caused by corrosion and blockages. Sometimes, they can be cause by using too much blockage cleaning chemical solutions.
Burst pipes can be caused by tree root systems, corrosion and blockages. Once you experience this plumbing issue, it is best to get help from a professional immediately. This can cause immediate damage to a large portion of your property.
For sink problems or damaged or blocked drains in Melbourne, contact us through act us now on 0412 738 874  for a free no obligation phone consultation and quote. You may also leave us a message and we'll answer you as soon as possible.
Please share this page with your friends! 🙂