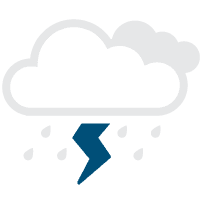 At Blocked Drain Plumbers we specialise in clearing blocked stormwater drains.
Do you have a blocked stormwater drain?
You will usually notice a problem with your stormwater drains during heavy rains and storms. Your stormwater systems should be able to handle any amount of increased water, but if there is a blockage or damage somewhere in the pipes then you will see some or all of the following common signs that you have a blocked stormwater drain;
Water pooling around your property
Surface grates are not clearing in heavy rain
Water is coming out of the bottom of your downpipes
Unusual sounds, like gurgling, from your drains
Common Factors
Some of the most common factors that may cause your stormwater drains to become blocked are;
Tree roots – Tree roots cause up to 95% of blockages and damage to stormwater pipes. Tree roots are drawn towards the water and nutrients flowing through your pipes. Even the most miniscule, hair-like, root can infiltrate pipework and soon grow into a large mass as it mixes with other leaves and debris flowing through the drainage system.
Foreign Objects – If foreign objects like stones, branches, leaves or even dead animals find their way into your drains or grates they may end up getting stuck and causing a blockage of your stormwater drainage system.
Broken or Damaged Stormwater Pipes – If your stormwater pipes have been damaged or if they have collapsed with age or due to external factors, your stormwater drainage system will quickly back up as the water is unable to flow as intended.
Lack of maintenance – It is important to keep your gutters and grates free of leaves and debris. If you have a gutter full of leaves these will be pushed into your drains and grates during heavy rain – quickly causing a blockage.
Incorrect Installation – If your stormwater pipes have been installed by someone other than a professional, fully qualified plumber there is a major risk that they may be installed incorrectly, often with short cuts taken to try and save money. Tree roots may penetrate through poorly installed joints or misaligned pipes and will continue to penetrate the pipework no matter how many times they are cleared.
Emergency Plumbing Services
A blocked stormwater drain should be considered an emergency, as the water eventually flows into our waterways and the Bay. If flooded stormwater is left for too long it can become contaminated causing a major health risk to the public, marine life and our precious environment.
If you suspect you have a blocked stormwater drain, we recommend you act promptly, saving yourself money and limiting the potential damage to your home, surrounding property and the environment.
Blocked Drain Plumbers provide after hours and emergency plumbing services and will provide a free quote.
Call us now on 0412 738 874!
If you need professional help contact us on 0412 738 874 or leave a message.
We will take care of your blocked drain problems. If your problem is an emergency plumbing matter and you need urgent assistance contact us right away!
Helpful details for a Blocked Drain and Emergency Plumber situation:
Triple zero – 000
City of Melbourne – Floods and Storms
VicWater
Yarra Valley Water
Victoria State Emergency Service
Please share this page with your friends! 🙂