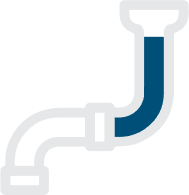 Blocked Drains – Causes and Effects
Blocked drains are very inconvenient to home and establishment owners. When drains have blockages, the water in the kitchen sinks, as well as in the showers and toilets drain slowly. This plumbing problem is usually cause by the following:
1.     Grease
Fats, oils and grease usually come from kitchen sink. They typically find their way down the pipes when people wash their dishes. As grease travels through the pipelines, they stick to the pipes and solidify. Over time, they accumulate and form a blockage. Thus, this will make it harder for water to go down through the drain.
2.     Greenery
These are the leaves that fall off from trees. They can easily accumulate in the pipelines, thereby causing blockages on your drains. It's best to ensure that these leaves are removed and collected in order to prevent blockages. Aside from leaves, roots are also a main reason for blockages and pipe damages. Because roots are attracted to moisture, they will commonly grow and move towards the pipes. They will damage the pipes to get to the water and obstruct the drains completely.
3.     Foreign Items
These are foods scraps, soap residue, plastics, tissues, jewelleries and other items that make their way down your pipelines. Once they accumulate, they can be very hard to remove while avoiding additional damage to your pipelines and drains.
Aside from slowing the passage of water down your drains, blockages are quite unsanitary. Thus, it can cause different types of health issues that ranges from mild to severe such as helicobacter pylori and peptic ulcer. Since the water quality in your home is affected, you may also develop skin problems.
Blockages such as grease and food scraps can also attract cockroaches and rats, making your home more unsanitary.
For this very reason, it is vital to know the common symptoms of blocked drains and once they appear, contact a plumbing specialists.
Symptoms of Blocked Drains
When your drains are blocked, normally, there would be an unpleasant smell that comes out of your drains. You would also experience a raised water level in your toilet. In addition, if your pipes and fixtures sound different than usual, or if there are gurgling sounds coming from your drains, chances are that they are blocked.
Clearing Blocked Drains Melbourne
At Blocked Drain Plumbers, we are generally called for a drain unblocking service that presents as either a flooded area, or a blocked system.
Some examples of drain blockage problems we encounter include:
Kitchen and dishwasher blocked drains
Laundry sink blockage or clogged sink drains
Shower drainage blockage or clogged or blocked shower drains
Clogged or blocked bathroom drains
Toilet blockage
Down-pipe blockage
Blocked or overflowing storm water pits
Blocked sewer pipe or drain
Blocked waste drains
Wet ground areas around your house or business
We are drain blockage removal specialists and can clear clogged drains, unclog a drain or undertake emergency drain blockages removal during business hours, after hours and on weekends.
Who to call for blocked drains or clogged drains?
We can unclog drains in Melbourne and its surrounding suburbs. If you have a blocked drain, need to clear a clogged drain or unclog a drain, contact us now on 0412 738 874! Free quotes to unclog drains. Browse through our site for more of our plumbing services.
Please share this page with your friends! 🙂