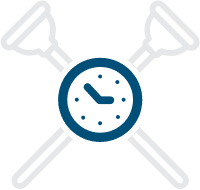 What is a Plumbing Emergency?
Plumbing emergencies are the worst! You don't know when they'll happen and how much damage they can do to your home or office. As the term signifies, these are emergencies, meaning they cannot be put off for another time. They must be dealt with as soon as possible.
But what constitute as "plumbing emergency"?
Internal Leaks – Water leaking down on walls and ceilings can either be caused by blocked pipes or gutters. If not fixed immediately, it could cause damage to your walls, ceiling and even your home's electrical system.
Burst Pipes – This plumbing emergency has a wider range of damage than leaking pipes. Aside from the damage dealt to your property, it will also skyrocket your water bills.
Blocked Toilet – This is a nasty, messy issue. Nobody want to have to deal with this. At worst, it can cause overflow or backup and entirely stopping the water from flowing through the outlet.
Blocked Drains – Once your drains are clogged, it will be difficult for water to pass through your system. This is a serious problem that needs to be solved quickly. It can affect the quality of water, which will lead to bad odours and allow bacteria to proliferate. Thus, affecting the health of people inside your home or office.
Broken Plumbing Fixtures – A broken tap or shower can also cause damage to your property. They are one of the leading causes of water wastage. As such, once you have a broken shower or faucet, you need to call an emergency plumber to deal with the problem.
Emergency Plumbers Melbourne
Blocked Drain Plumbers offer after hours and emergency plumbing services in Melbourne.
Once we get a call, we'll do our best to get to your location as soon as possible. So, aside from our knowledge of every inch of Melbourne, we also utilise the latest technologies to get to the location of the plumbing emergency.
We are committed to providing an efficient service at competitive and affordable prices.
If you need emergency plumbing in Melbourne, such as blocked drains, clogged toilets overflowing, blocked bathroom or kitchen sinks or a similar problem, call us on 0412 738 874 for a free quote. We will attend and fix your emergency plumbing issue after hours and on weekends, if required.
Some examples of common emergency situations include:
Late night or weekend emergency blocked drains
Flooding bathrooms, laundry or kitchens
Blocked and overflowing clogged toilets
Offensive odours or noisy pipes
Why Choose Us?
Blocked Drain Plumbers is one of the most trusted name in the plumbing industry. We ensure that each of the work we do is of top quality.
Our emergency plumbers have over 15 years experience.
All our work is guaranteed by the Australian Plumbing Standards and we adhere to all work place safety standards.
We use state of the art plumbing equipment to fix any type of plumbing problem be it a burst pipe, blocked drains, toilets and sinks; leaking pipes and more! From unblocking clogged drains in Melbourne to pipe and drain repair, maintenance and replacement – we can do it all!
Emergency Plumbing
If you have an emergency plumbing issue with your sink, toilet, bathroom or kitchen, or have blocked or clogged drains overflowing or any other general plumbing problem, call our emergency plumber Melbourne on 0412 738 874 or click here to contact us.
Please share this page with your friends! 🙂