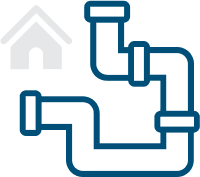 Plumbing is a service that most people don't take notice until something goes wrong. Typically, people will only get the services of a plumber when there is a plumbing emergency. For example: a person will only take notice of a toilet drain, when it starts making noises and not draining normally. Another example is if their home or office's ceiling collapses from burst pipes or when the walls are damp.
Generally, when the plumbing is installed, people don't feel the need to pay attention to them. Another reason is that since the plumbing system is often installed inside walls and ceilings and that the only part of the system that we see are the sink and taps; people tend to forget that they exist. People will only remember the plumbing system when a problem arises.
General Plumbing Services
Blocked Drain Plumbers is the leading provider of general plumbing services in Melbourne and its surrounding suburbs. Our general plumbing services are extensive and can cover almost all types of plumbing works. We will do every plumbing job, from simple maintenance check to major repairs.
Whether you are adding a new plumbing fixture or simply updating or upgrading your bathroom and kitchen, it is vital to make sure that it is done properly. With Blocked Drain Plumbers, you have a wide variety of services to choose from.
Commercial maintenance
Renovations – residential and commercial
Blocked drains and pipes
Factory maintenance
General residential maintenance
New fixture installations
Burst water pipes and leak detection
Leak detection and repair
Installation of hot water units
Property service checks eg. To investigate excessive water bill.
Water tank and pump services
Insurance plumbing works
Control valve replacement and repair
Re-piping, piping repair and installation
Faucet and shower installation and repair
Sewer check, maintenance, cleaning and repair
Routine maintenance
Tree roots removal
Blocked Drain Plumbers provide upfront and honest pricing for all plumbing services we provide. Our goal is to provide a level of service like no other. We take our jobs seriously and make sure that all of our customers are satisfied. Customer satisfaction is our utmost priority and goal.
To provide the best services, our team is made up of professionals who are highly trained and experienced in the industry. Our plumbing specialists also practice impeccable work ethics and maintain professionalism at all times. Our use of highly effective plumbing tools and equipment has helped us provide the best general plumbing services in Melbourne.
We are also a leading provider of emergency plumbing services. Whatever your plumbing needs are, we guarantee that we can provide you with the best solutions and deliver the best possible results. When you give us a call and inform us of your plumbing need, we will do our best to get to you as soon as possible.
Contact us at 0412 738 874 or leave us a message to get a full evaluation of the health of your plumbing system. We will respond to your calls or online queries quickly and address your concerns fully.
Please share this page with your friends! 🙂