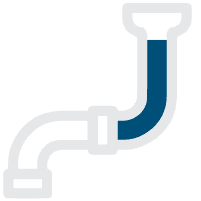 A blocked sink drain is terribly inconvenient. Aside from the foul smell that it emits, the blockage inside the sink drain can also attract rats and insects. Harmful bacteria will start proliferate from these drains, which will eventually make their way into your home through the insects. Thereby causing health issues to everyone in your home or office.
Because of this, it is crucial to know how to prevent and detect blocked sink drain. A blocked sink drain will often produce an unbearable smell. Also, the sound of the water passing through the drain pipes will most likely become different.
In order to prevent sink drain clogging, you will need to make sure that only water comes through it. So make sure to remove excess grease and food scraps from plates, utensils and cooking equipment before you wash them. Do not throw plastics, food scraps, tissues and other foreign objects into your sink.
DIY Blocked Sink Drain Unblocking
If you have a blocked sink drain, we do not recommend to unclog it yourself. You may have read somewhere that blocked sinks may be unblocked by running boiling water or a certain chemical solution through your drain. And though these two may be effective solutions to your plumbing problem; they can also end up causing more damage to your drains, especially if you are not adept to using them.
So if there is a blocked sink in your home, it's best to leave it at the hands of blocked sink specialists.
Blocked Sink Drain Melbourne
Blocked Drain Plumbers can clear a blocked sink drain. No matter whether it is a clogged kitchen sink, blocked kitchen sink or bathroom sink, we can unblock it for you. Clearing clogged sinks is a speciality.
We all know how easily our home sinks get blocked and we're all familiar with the trouble it can cause if the problem persists. Fortunately, if the blockage isn't too severe, it can be fairly straightforward to fix. But, if your kitchen sink is blocked and bicarb, vinegar, soda crystals and hot water aren't helping, it's time to call us for help!
We do suggest you avoid using harsh chemical drain unblocking solutions such as caustic soda as these can burn your skin on contact and may leave a hazardous residue around your sink for hours after use.
We have over 15 years experience clearing blocked drains, sinks and can provide emergency or after hours services to clear a blocked sink.
Call us now on 0412 738 874 for a fee quote to clear your blocked sink or unclog you clogged sink. We provide after hours and emergency plumbing services and offer free quotes to unclog our sink.
If you need professional help contact us on 0412 738 874 or leave a message.
We will take care of your blocked drain problems. If your problem is an emergency plumbing matter and you need urgent assistance contact us right away!
Helpful details for a Blocked Drain and Emergency Plumber situation:
Triple zero – 000
City of Melbourne – Floods and Storms
VicWater
Yarra Valley Water
Victoria State Emergency Service
Please share this page with your friends! 🙂