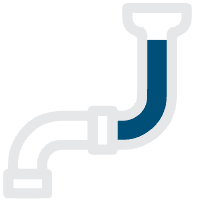 Blocked Drain Plumbers can clear a blocked sink drain. No matter whether it is a clogged kitchen sink, blocked kitchen sink or bathroom sink, we can unblock it for you. Clearing clogged sinks is a speciality.
We all know how easily our home sinks get blocked and we're all familiar with the trouble it can cause if the problem persists. Fortunately, if the blockage isn't too severe, it can be fairly straightforward to fix. But, if your kitchen sink is blocked and bicarb, vinegar, soda crystals and hot water aren't helping, it's time to call us for help!
We do suggest you avoid using harsh chemical drain unblocking solutions such as caustic soda as these can burn your skin on contact and may leave a hazardous residue around your sink for hours after use.
We have over 15 years experience clearing blocked sinks and can provide emergency or after hours services to clear a blocked sink.
Call us now on 0412 738 874 for a fee quote to clear your blocked sink or unclog you clogged sink. We provide after hours and emergency services and offer free quotes to unclog our sink.
If you need professional help contact us on 0412 738 874 or leave a message.
We will take care of your blocked drain problems. If your problem is an emergency plumbing matter and you need urgent assistance contact us right away!
Helpful details for a Blocked Drain and Emergency Plumber situation:
Triple zero – 000
City of Melbourne – Floods and Storms
VicWater
Yarra Valley Water
Victoria State Emergency Service
Please share this page with your friends! 🙂